Blog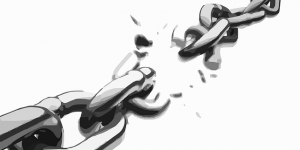 Your job as an SEO mind is to use common sense, and knowledge to interpret Google's message without over reacting out of fear. You know when you are doing things that are good for your brand and what makes business sense in a partnership don't you? In our blog on the Penguin Update we discusses many of the mistakes that can get you out of favor with Google. Some of them are mistakes that you have made, and some of them are out of your control, this is life, this is online marketing. Learn from your mistakes and learn how to protect yourself while dealing with them. The best part of it is, Google is willing to help with the Disavow tool. However, don't take advantage of Google's kindness. This isn't a get out of jail for free card, and the tool should be handled with extreme care and used as a last resort. Here are the steps you need to take in order to use it properly.
Over-optimized anchor text
Hint: Listing twelve keywords in a blog and linking back to your home page is not a good thing. 
Hint: Sites that have the words, SEO, FREE, LINK, POKER, Directory, will lead you on a path to nowhere and fast.
Hint: If you have to ask yourself, is this site relevant? It is more than likely not.
Remove all links that are questionable, despite no follow or follow tag.

Remove all questionable broken links

Use Citation flow of .7 or above and a DA of 50 or above as your judgment of any additional questionable links.

If you are seeing any of these sites in your quick scan. It is time to get up close and personal. At DEP we believe strongly in the machete approach when reviewing the links. We trim with precise aggression.   
For the entire disavow process, we use Remoovem. It scan's several sources for you automatically, and allows you one free upload of an excel file for any additional links you want to evaluate. In addition, it makes the overall disavow process much simpler due to the fact that it provides contacts to the sites you want to disavow, template messages, and tracks numbers of outreach emails automatically. When your outreach is complete, it will also create the disavow list needed for submission. In all honesty,we couldn't imagine doing a Disavow without it.
Contacting Sites
Google recommends contacting sites a min. of 3 times. They want to make you work for fixing your mistakes.  We send these over a 10 day period, with 2 days between each email. Here are some rules to live by. 
Emails should be professional, friendly, and contain all necessary information for the webmaster to easily identify the link you want removed.  The easier you make the task on them, the more likely they are to accommodate.  Each email you send of the three, should get progressively more urgent, but never threatening.  

Emails should be sent from a client's server for continuity.

Make sure you remove websites from your outreach list as they respond or remove the requested link. 

If someone request you pay for link removal, kindly tell them that you will just proceed to the use of the disavow tool.
File Creation
If you are not going to use software like Remoovem you need to follow the following steps to provide the correct disavow file for submission:
The Disavow File should start with a statement of your removal requests with a "#" for each statement. 

#We have manually contacted each of the these sites 3 times between 0ctober 10th 2014 – October 20th, 2014, but were un able to have them removed by their webmasters.  We have records of all our requests.

It should be a text file (txt), and encoded in UTF-8.

Each line should only contain one domain

Format for submission is "domain: xyzabc.com"

www., or http:// is not required

 When you choose to update your file with additional requests, bear in mind that this will replace your old request.  It will remain visible in the tool regardless if the file has been accepted or not.
File Submission
When you're ready to submit your disavow the process is simple.
Log in to your Google account

Select your site

Click "Disavow Links"

Choose the file you created

Click "Submit"
Tags: disavow, google, seo


Categorised in: SEO

This post was written by downtownecommerce_admin