Blog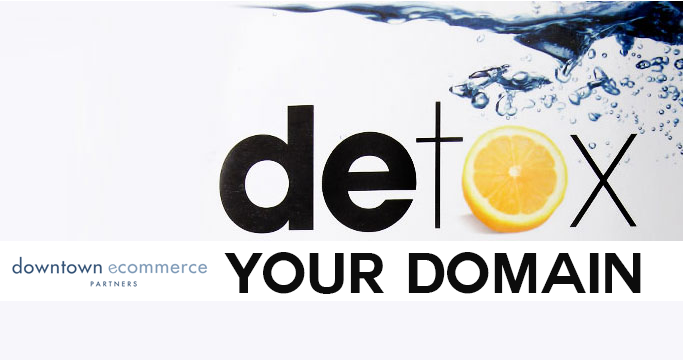 A large number of our clients, especially those with longer online existences, have suffered considerable Google ranking and traffic penalizations with the release of PENGUIN back in April of 2012. But the first releases of penguin did not kill their traffic completely. Google traffic continued to drop slowly over time.
If nothing had been done about cleaning unnatural links from those website's link profiles at that point (May 22, 2013, after the fourth update of PENGUIN), it would've been game over. Their Google rankings would have drop to zero, and the ecommerce businesses would have taken the biggest hit.
It had become apparent that old ways of link building were gone forever, and all SEO experts had to learn a new skill:
How to successfully use Google's Disavow Tool
Regardless if you received a manual penalty or not, If you've been actively involved in SEO for your website over the last few years, you should understand what Google Disavow is, and what it can do for your online ecommerce business.
Introduced in October of 2013, the disavow tool is Google's way of allowing you to ask Google not to count certain links that point to your site. You can find the tool here. And here is Google's advice on how to use the tool.
---
Disavow is defined as denying any association or responsibility. This definition applies well to Disavowing links in the world of SEO. Essentially, it's a way of communicating to Google that there are some links to your website that were created in the past either by you or a third party, with which you no longer want to have any association. We like to also use the term Detox.
---
So what do you need to do to Detox your site from unnatural links?
After a number of successful disavow campaigns, DEP has learned that it's not enough to simply make a list of bad URLs and report them to Google. You need to prove to their team that you've made every effort to get these toxic links permanently removed, before you report them.
Here is a quick step-by-step guide on how the Disavow process works.
As with all powerful tools, they come with questions about proper use and concerns about abuse. It's important to know that the Disavow is a manual process that takes hundreds of hours of work, and there is no one-size-fits-all formula for success. Google has stated that not everyone needs the Disavow tool. They regard it as an advanced tool, and warn users to use the tool only if "…you believe you have a considerable number of spammy, artificial, or low-quality links pointing to your site, and if you are confident that the links are causing issues for you."
So do you really need this tool?
The short answer: probably yes (sorry Google).
Step 1: Complete a Backlink Audit of your site.
Quality backlinks are a requirement of healthy search rankings. But it's clear now that you can't go very far if your site has a bunch off-topic, spammy, or even sponsored inbound links. While it's important to attract good links, it's just as important to remove bad ones.
So download all the links to your site. To get the best picture of your backlink profile, you should use a selection of tools, including Google webmaster tools, MajesticSEO, Ahrefs & OpenSiteExplorer. Use one link per domain filter.
Tip: If you have a site that has more than 1000 linking domains, sometimes you can get more links from webmaster tools by downloading the sample list of links daily for a few days.
Step 2: Combine all downloads into one spreadsheet. Create one tab per tool.

Step 3: Filter the spreadsheets, remove unnecessary information and combine URL's
You'll end up with a big spreadsheet containing every link reported by each of the tools. At this point, you will need to de-duplicate the spreadsheet so see one URL per domain in column A, and page URL of the link in column B.

Step 4: Start the manual Audit of each link.
Now you need to decide which of those links can potentially harm your domain and which ones are worth keeping. You need to visit each URL on your spreadsheet and make a decision based on the following:
Was this link made solely for SEO purposes?
Was this link obviously paid for
Does this link truly have the potential to direct clients your way?
Would you be worried if a Google employee or a competitor saw this link?
Don't disavow all your links, because it will harm your site rankings even more. There's no need to go disavowing everything that you don't recognize. Penguin won't penalize a site just because it has some odd looking links. You have to make it clear that you've made a great deal of effort to remove as many bad links as possible. If you have a manual penalty associated to your domain, you should be more resolute in getting it removed than the usual pre-penguin-update clean out.
Another benefit to using the Disavow tool is the opportunity to discover negative, or "black hat" SEO. You might find artificial links pointing to your site that you had no part in generating, which could mean your competition is building negative links pointing to your site (Some people like to play dirty).
Step 5: Outreach, using a professional disavow online tool or hiring a professional.  
After you filtered all the links directed to your site and decided on the ones you would like disavowed, start a spreadsheet that records the following information:
URL/site name
Link URL
Anchor text
URL that it's linking to
Owner name/contact information
Records of contacts
Ideally, try reaching out to the site at least three times before adding it to your Disavow file. In terms of what your request should include, keep it very basic. Personalize the message, and ask them to remove the link, including the information above. If you have hundreds or thousands of links to your domain, you may want to use a help of an online tool, like Remove'em to help you save time and manage your outreach.
Try sending your messages a minimum three days apart, and follow up in an organized way. Use Boomerang for Gmail to automatically remind you if you don't hear back from a Webmaster.
Finally, if you reach out to a webmaster and they want to be paid to remove a link, don't do it. Simply note the request in your spreadsheet, along with a copy of their message, and submit it with your disavow request – this will report them and hopefully put a stop to their existence online.
Step 6: File Disavow request to Google.
To submit your disavow file, go to the Google disavow tool, and select your site from the drop down list.
Your disavow file has to be a .txt file in UTF-8 format or 7-bit ASCII.
You can include comments after the #, but we don't think it's necessary. No one at Google will actually read them, so we started uploading only lists of domains instead, and so far, the results have been the same.

Sign into Google Search Console.
From the drop-down menu, select the website for which you are disavowing links.
Select "Disavow Links."
Select "Choose file."
*Upload your .txt file.
If you want to remove links from or add links to your disavow file in the future, upload a new and complete file. The new file will replace the previous one.
If you're under a manual penalty or some other circumstance where you're submitting a reconsideration request, include this information with your request to Google. This will help prove that you've taken serious steps to cleaning up your link profile.
It can take a couple of weeks between the upload and any rankings movement.
If you feel that you could benefit from having a link Detox, DEP can provide you with pain-free, professional support. Please contact us for more details.
Gosia Iwaszko, SEO Manager
Categorised in: SEO
This post was written by downtownecommerce_admin