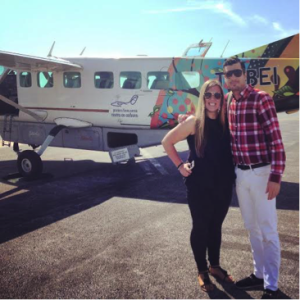 I am 34.  I am a single father; I have big dreams, and have always prided myself on doing things my way, without conforming to a system.  Ten years ago, I was happy, but wanted more.  I desired freedom and flexibility, I wanted to be different, I wanted to combine my love for being an entrepreneur and artist, and I wanted to make my family, friends and most of all my son proud of who I was and the work that I was doing.  I wanted to be all I could be without the Corporate Army.
After a few miscues, staying steadfast with my vision, a bit of luck, and a lot of hard work, I have become the SEO manager of Downtown eCommerce Partners, and I couldn't be more proud.  I feel I have painted myself into a picture that I was always supposed to be framed within, and I did it without even realizing at the time there was a canvas.  I am excited to have the opportunity to achieve all the goals I set for myself nearly a decade ago when I shed the Corporate Lifestyle I was living for the road less traveled.  I'm ready to create in my own way, and to utilize all the skill assets I have learned throughout the journey to get here. 
It's a long way to the top if you want to rock n roll.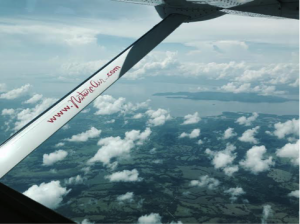 Last week, I had the privilege to take my first business meeting flight in almost 8 years to consult a client. I have to admit, something that I once dreaded had become exciting for me again.  It was a 15 passenger plan, a 45 minute flight, and true to the name of the company, Nature Air Vacations, the views through the Costa Rican country side were disturbingly beautiful.  I was literally alone to my thoughts, with my head in the clouds. No seriously, it was only me, a lady from India, my colleague Kristina, and the two pilots on the plan. It was the Captain's first flight.  I wasn't nervous.  I looked off into the clouds through my vintage shades, and reflected.  It was time to start blogging.  It's time to share my story.  
With this blog I hope to mix a little bit of business, a little bit of culture, a little bit of art, and a whole lot of my experience in answering the question that I get almost every time I meet a new person at a cocktail party, or I'm skype chatting with a friend or family member I haven't seen for a while.  What is SEO?   I might not have all the answers, no one does, but it will be fun sharing what I do know and engaging others in the conversation.  The first 3 blogs will cover the following no brainer topics with the general idea of How to take flight in the relationships you want to build.
The Dandelion dis·a·vow
This is non-officially called the break up tool, by Will Reynolds at SEER Interactive.  In this blog I will discuss how to recognize if you are in unhealthy relationships, and how to correctly distance yourself from them by properly using the Google Disavow tool.  The only way to find the partner of your dreams is to first rid yourself from the past.  I love them, I love them not! 
Partners for Life – Linkbuilding in the 21st Century
We've all had a desire to get a date with someone that was either A) a bit out of our league, or B) didn't know we existed.  As an SEO consultant it is your job to make this league disappear, and put your client on the radar with the partner of their dreams.  This blog will discuss how to get that first date, build a mutually beneficial partnership, and all the little things you can teach your client to do in order stay together with their partners for life.
The only way, is to be CONTENT?
People love to be around smart, educated, attractive and charming people that bring value to their lives. The life partners you seek through link building are no different. In this blog we will discuss several content building and syndication techniques that will allow your small firm to sit at the table with the big boys and get the winks you deserve.   
Are you excited? I sure am.  We have a date, we're going Dutch, and I can't wait to see you here on November 1st all dressed up and ready to take flight!
Corey Hahn brings eight years of managing, marketing and consulting experience working for Fortune 200 Companies within the corporate benefits sector. Joining Downtown E-commerce in 2010 he has leveraged these experiences to design, implement and manage SEO campaigns for a diverse portfolio of clients. He continues to find innovative tactics to develop mutually beneficial partnerships centered on quality content creation, and social media marketing.